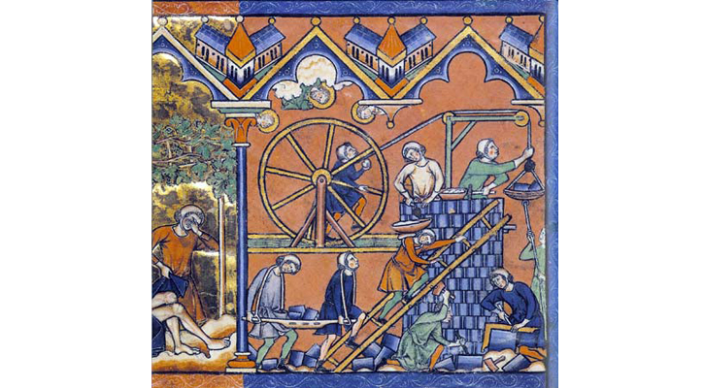 Masons using trowels to mortar the stone
PREAMBLE
I.
The fraternal union of Freemasons is an association of independent men of good standing that strive to improve their spiritual and moral virtues, regardless of their race, nationality, religion, social standing or political beliefs. It promotes the development of its members in the spirit of humanism and bounds them to respect the freedom of thought, conscience and faith of every person within and outside the Lodge.
Respecting the aforementioned tenets, the Grand Lodge of Croatia accepts the Duties of a Free Mason (Old Charges) of the English Constitution of Free Masons from 1723.
Freemasonry strives to improve education and enlightenment, fights against intolerance by protecting human rights and establishes and supports the institutions of benefits to society.
The tenets of Freemasonry are fraternal love without prejudice, truthfulness and self-improvement.
II.
Freemasonry does not require its members to belong to any particular religion. It respects any true belief and condemns persecution of those whose opinions may differ. Not eligible for acceptance into Freemasonry are those men whose views and lifestyles indicate that they do not abide to the General Charter of the United Nations on Human Rights of the 10th of December 1948.
III.
A Freemason must pay due to obedience to the laws of his country. He must faithfully work for the benefits of his country by his spoken word, writing and deeds.
Freemasonry may not take sides on political or religious issues.
IV.
A Freemason may not improperly reveal the rituals, signs and ancient customs which serve to the mutual recognition of the Brethren. He may not disclose to the non-masons the names of the members of the Craft nor candidates for admission or other internal matters concerning the Lodge or the Great Lodge.
The history, basic principles and the purpose of Freemasonry are not secret.