The earliest reference to the conferring of the Order of the Temple is in St. Andrew's Royal Arch Chapter, then St. Andrew's Royal Arch Lodge, Boston, Massachusetts, August 28, 1769.
We next find that the Orders were conferred upon Paul Revere in St. Andrew's Lodge, Boston, Massachusetts, December 11, 1769. On May 14, 1770, St. Andrew's Lodge conferred the Orders upon General Joseph Warren. At the time there were no Templar bodies, and the Templar ceremony was practiced under the sanction of the warrant of a Lodge. It was customary in those days for persons in possession of higher degrees to confer them on worthy Master Masons; for example, that of performing the ceremony of Knighting a Templar. Sometimes a diploma was granted.
After the close of the Revolutionary War, the higher degrees began to be conferred by regularly constituted bodies. Chapters and Commanderies were organized upon a permanent basis.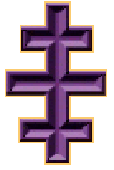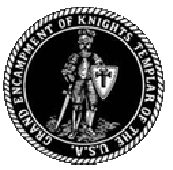 Coat of Arms of the Grand Encampment
The Grand Encampment of Knights Templar of the United States of America was organized June 22, 1816. Its jurisdiction extends over 47 Grand (State) Commanderies, and subordinate Commanderies located in Delaware, Mexico, Cuba, Puerto Rico, Canal Zone, Alaska, Hawaii, Philippine Islands, Italy, Croatia and China. It exchanges representatives with the Sovereign Great Priories of Knights Templar of Canada, England and Wales, Scotland, Ireland and Helvetia (Switzerland).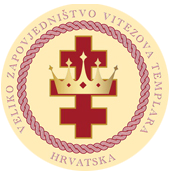 Coat of Arms of the Grand Commandery of Knights Templar of Croatia
The Grand Commandery Knights Templar of Croatia was instituted in 2009. There are 3 Commanderies in this Grand Jurisdiction. Constituent Commanderies are chartered by the Grand Commandery of the State, which in turn is chartered by the supreme authority over Templar Masonry, officially entitled "The Grand Encampment of Knights Templar of the United States of America."
Various interpretations based on historical evidence have been advanced to show that chivalric Freemasonry is the lineal descendant of the Ancient Templars. There may be some who doubt this, yet in tracing our genealogy to those Knights of old, we liken it to the sunken rivers found in many parts of the world, where we can trace their water after they disappear on one side of a mountain, and discover where these same waters again appear and proceed onward to the sea.
The same flowing spirit which was manifested in the lives of the Ancient Templars, together with the fundamental principles of that Ancient Order, from their origin in the Twelfth Century until they disappeared beneath the obstructions placed in their path, we can now clearly trace in the Templar rituals of England and the United States.