What is a Shriner? What kind of organization attracts truck drivers, dentists, contractors, heads of state, movie stars, generals, opera singers, clergymen and accountants? What is the Shrine?
Someone might answer: "Oh yeah, Shriners are those guys who always have those parades with the wild costumes and funny little cars." Another might think of Shrine circuses and Shrine clowns. The fellow next to him might interject, "No, Shriners are the guys who wear those funny hats — like flowerpots — and have those big conventions."
"I don't know about that," a passerby might add. "But I do know my little girl was born with club feet and now they are straight, and she can walk like anyone else, thanks to Shriners Hospitals for Children."
"She can walk?" questions still another. "I thought the Shriners ran those fantastic burn hospitals. I've read stories about them saving kids with burns on 90 percent of their bodies."
All those people are right. Each has experienced an aspect of Shrinedom. What they cannot experience, unless they are Shriners, is the camaraderie, deep friendships, good fellowship and great times shared by all Shriners. What they may not know is that all Shriners share a Masonic heritage: Each is a Master Mason in the Freemasonry Fraternity.
Historically, Masons had to become members of the York or Scottish Rite Bodies before becoming a Noble of the Shrine. However, at the Imperial Council Session in July 2000, an amendment to Shrine law changed that requirement, allowing Master Masons to become Shriners directly.
There are nearly 500,000 Shriners now. They gather in Temples, or chapters, throughout the United States, Canada, Mexico and the Republic of Panama. There are 22 Shriners Hospitals for Children — 18 orthopaedic hospitals, three burn hospitals, and one hospital that provides orthopaedic, burn and spinal cord injury care. These hospitals have cured or substantially helped more than 700,000 children — at no cost to parent or child — since the first Shriners Hospital opened in 1922.
How did it all start? How does it work? What is the Shrine?
The Evolution Of The "World's Greatest Fraternity"
In 1870, several thousand of the 900,000 residents of Manhattan were Masons. Many of these Masons made it a point to lunch at the Knickerbocker Cottage, a restaurant at 426 Sixth Avenue. At a special table on the second floor, a particularly jovial group of men used to meet regularly.
The Masons who gathered at this table were noted for their good humor and wit. They often discussed the idea of a new fraternity for Masons, in which fun and fellowship would be stressed more than ritual. Two of the table regulars, Walter M. Fleming, M.D., and William J. Florence, an actor, took the idea seriously enough to do something about it.
Billy Florence was a star. After becoming the toast of the New York stage, he toured London, Europe and Middle Eastern countries, always playing to capacity audiences. While on tour in Marseilles, France, Florence was invited to a party given by an Arabian diplomat. The entertainment was something in the nature of an elaborately staged musical comedy. At its conclusion, the guests became members of a secret society.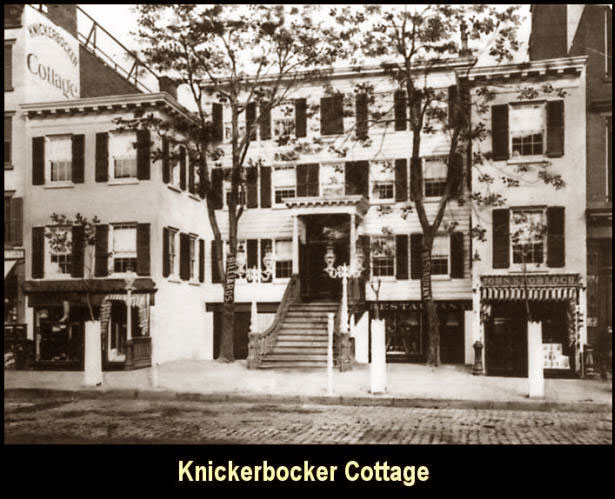 Florence, recalling the conversations at the Knickerbocker Cottage, realized that this might well be the vehicle for the new fraternity. He made copious notes and drawings at that initial viewing and on two other occasions when he attended the ceremony, once in Algiers and again in Cairo. When he returned to New York in 1870 and showed his material to Dr. Fleming, Fleming agreed.
Dr. Walter Millard Fleming was a prominent physician and surgeon. Born in 1838, he obtained a degree in medicine in Albany, N.Y., in 1862. During the Civil War, he was a surgeon with the 13th New York Infantry Brigade of the National Guard. He then practiced medicine in Rochester, New York, until 1868, when he moved to New York City and quickly became a leading practitioner.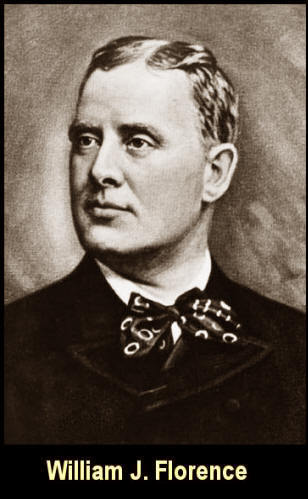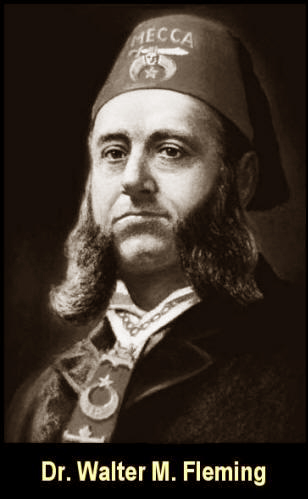 Fleming was devoted to fraternalism. He became a Mason in Rochester and took some of his Scottish Rite work there, then completed his degrees in New York City. He was coroneted a 33° Scottish Rite Mason on September 19, 1872.
Fleming took the ideas supplied by Florence and converted them into what would become the Ancient Arabic Order of the Nobles of the Mystic Shrine (A.A.O.N.M.S.).
With the help of other Knickerbocker Cottage regulars, Fleming drafted the ritual, designed the emblem and ritual costumes, formulated a salutation, and declared that members would wear a red fez.
The initiation rites, or ceremonials, were drafted by Fleming with the help of three Brother Masons: Charles T. McClenachan, lawyer and expert on Masonic Ritual; William Sleigh Paterson, printer, linguist and ritualist; and Albert L. Rawson, prominent scholar and Mason who provided much of the Arabic background.